TTF Transducers
TTF Transducers
TTF, Tumor Treating Fields Transducer
TTF transducers with piezoelectric ceramics
Ceracomp manufactures and produces excellent transducers by directly
manufacturing and producing ceramics suitable for TTF.

It is a treatment method that uses a low-intensity electric field to make cancer cells vulnerable
to electrical stimulation using charged proteins in the cells.
This method has confirmed its effectiveness in brain tumors and obtained permission
from the US Food and Drug Administration (FDA).
Directly manufacture the materials of ceramics and devices used for this.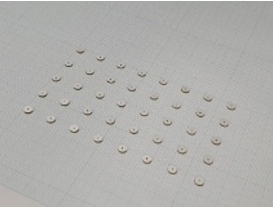 Copyright ⓒ Ceracomp Co., Ltd. All Rights Reserved.